High Quality Miniature Poodles in all colours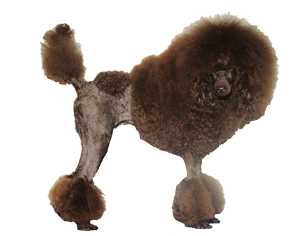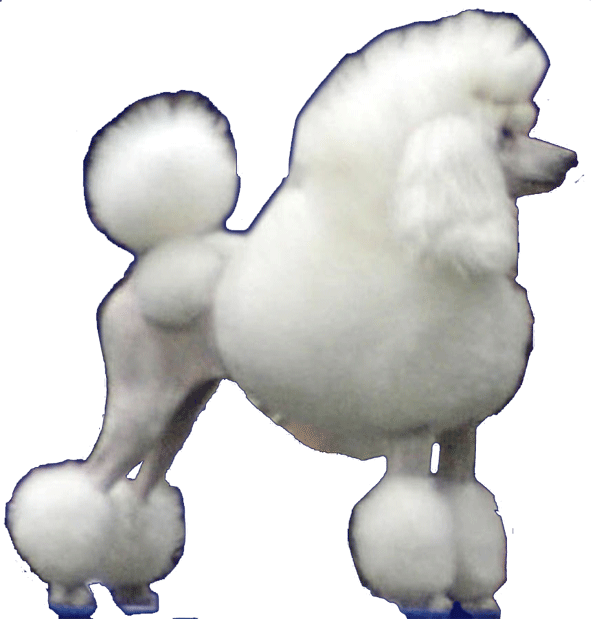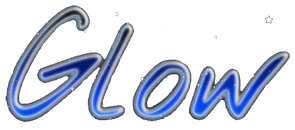 Caniches Miniatures Haute Qualité de toutes les couleurs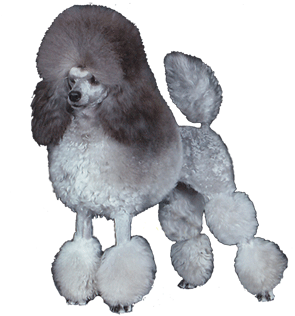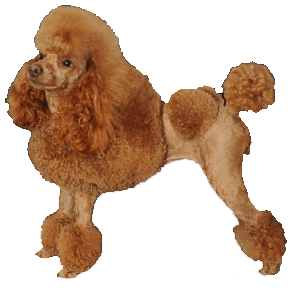 BIG NEWS!!!! We are Proud to announce that the son of Neige AM. GCH. Glow Sir Pierre Frenchy Pompey will be going to Westminster! see: www. pompeygrandchampion.com
2018 was a year of growth, my foundation, retired and the best keepers are getting off health testing and breeding age...
2019 will bring us a better place for them to live, with plenty space to run, play , do agility and be happy.
Ch Cameo Lady in Red was the foundation of my red line. She gave me GLOW Luzia Desire for Fire (aka Lulu) who had her first litter with Midas Nov. 2018. Her other daughter Honey was crossed with Magnum and produced Ch. Glow Poupee de Soie. Soleil and Poupee will be bred for first time in 2019 after completing their health testing.
Ch Denote Glow Claire de Lune was the foundation of my white line. She gave me GCH. GLOW Blanca Nieves (aka Neige) . Neige has produced GCH. on every litter: Pompey in USA, Gerine in Czech Republic, and a young Canadian Ch. Glow Ella de Neige. Lana, Ella and Hudson will become of breeding age in 2019.
Ch Mivida Sweet sureender (aka Baci) was the foundation of my brown line. She gave me beautiful puppies. I was able to keep intact two males from her first breeding to Christian Dior:
Lou and Braddy.
Asa's Willy Wonka Glow Factory is an Am. Can Ch. and he produced Godiva, Raven and Oscar. He was bred to Ch. Gulfbreeze Glow Oprah teh Show Girl and produced 3 beautiful puppies
​
We breed and raise happy, healthy puppies up to 9 weeks old, in a clean loving home environment providing for them good nutrition, loving care, socializing and training. We do temperament testing at 7 weeks, and conformation and health at 8 weeks. After this time, they are adopted by good families that will care for them. All of our puppies are micro-chipped, and CKC registered.
We strive to produce beautiful and healthy miniature poodle puppies with nice temperament.
Our breeding foundations are champions from the top champion lines of USA, Europe and Canada. We have bred incorporating imported lines and out crossing have reduced the risk of inherited diseases or immune disorders. I also pay attention to VGL testing to produce healthier lines.
Poodles originated from Germany and northern Europe; they were used to hunt waterfowl. The reason for their special grooming is that their "bracelets" kept their joints warm while in the water, hence the term "pudel", which means to splash in the water. Pudel is the German name for this beautiful breed.
Poodles, in a variety of colors have always captured the attention of dog lovers; they are dogs that have a huge mass appeal. They are aesthetically beautiful creatures that have that star quality that is captivating, and therefore have worldwide popularity.
Poodles are one of the few truly hypo-allergenic breeds, non-shedding and no "doggy-odor" when wet. We breed for the original "Jack-of-all-trades", the versatile poodle that enjoys whatever activities their owners want to pursue and they have the physical structure to do it.
​
Ch Alegria Glow Joya de Plata was the foundation of my silver line. I could not find a good silver male unrelated and I went to Germany to bring Ch. Silver Eljano Vom Orecher's Hof (aka König) .
They gave me CH. GLOW Tinsel Bell (aka Tinsel)
Unfortunately Tinsel was lost, but she left behind Ch. Glow Bright Selena, and Glow Athos Khrome.
Ch. Glow Heavenly Joy is also the child of Joya x König.
Ch. Glow Titania the Queen Fairy (aka Tita) is the product of Selena x Gch Mivida Cyr Aramis (aka Alfie) Alfie is a top producer .
To be able to get more diversity, I found an American Champion Snowbound Wiggins, he is fully health tested and he is now part of our breeding pack.
Nous élevons nos chiots dans un environnement familial et affectueux jusqu'à neuf semaines. Ils sont propres et bien nourris. Nous les avons entraînés et ils ont appris à socialiser entre eux. Nous faisons des tests de tempérament à 7 semaines, et l'évaluation de conformation et de la santé à 8 semaines. A neuf semaines les chiots sont adoptés par une bonne famille qui prendra bon cœur leurs développements. Tous nos chiots sont identifiés avec une micro-puce et enregistrés au CCC.(Club Canin Canadien)
Nous faisons un gros effort pour produire de beaux chiots caniches sains.
Nos chiens reproducteurs proviennent des meilleures lignées de Champions Canadiens, Européens et les États-Unis Américains.
Puisque les caniches sont d'origine allemande et le nord Européen, c'est là j'ai trouvé deux des mes mâles. Pour éviter l'élevage de chiots de la même descendance, et d'assurer la meilleur qualité et santé possible, nous sommes allés en Allemagne pour obtenir un mâle d'excellente lignée argentée et aussi notre male brun qui porte pedigree de la Norvège.
Les caniches ont été d'abord utilisés en tant que chasseurs à la sauvagine, tels que les « canards » et les oies, et à cet effet ils ont hérité leur du nom ¨caniche'.
La raison de le style de leur toilettage c'est à que les bracelets' (fourrure) autour de leurs articulations, les gardaient au chaud pendant qu'ils étaient dans l'eau, et d'ailleurs le terme allemand 'pudel' signifie barboter dans l'eau. Pudel est le nom allemand pour cette belle race.
Toutes les couleurs de caniches sont captivantes. C'est une race très prisée et populaire à travers le monde.
Les caniches sont parmi quelques races vraiment hypoallergéniques, sans odeur de chien quand ils sont mouillés. Nous préférons cette race pour sa conformation et sa polyvalence qui permet aux propriétaires des pratiquer plusieurs d'activités.
Voici quelques activités que nous faisons avec eux : la Danse, l' Agilité, la Thérapie et mes caniches ont également posé comme modèles pour des photos de publicité pour Fido.
Les caniches sont toujours les vedettes incontestables dans tous les événements auxquels ils participent.
Comment choisir un bon caniche?
Ch. Midas Glow Tesoro di Mauro. Multiple Champion: Canadian, Monte Carlo, Macedonia and Slovakia
Ch. LeeAnn's Rayon de Soleil Glows TP was bred a couple of times to Midas producing lovely puppies of Which I kept Ch. Glow Scarlet of the Windy Spring and her sister Ch. Glow Ingenuity at Mars. Soleil was also bred to Alfie producing a beautiful male : Ch. Glow Candy Sweet Porto. He is working on his GCH. points.
From Left to right: Ch. Style Now Flash of Joy, Multi Ch. Midas Glow Tesoro di Mauro, Ch. Silver Eljano Vom Orecher's Hof and Am Can. Ch. Asa's Wiily Wonka Glow Factory
We are very proud to announce that in 2018 we got Canadian Championships on the 4 new additions to our family;
Midas Glow Tesoro di Mauro, Red, imported from Italy, became a Canadian Champion on SDG in August 2018. He is also a Ch. in Montenegro, Macedonia and Slovakia. Best Baby puppy in Show in Bulgaria, and many Best Baby Puppy in Breed all over Europe. He also became a father for the first time November 24, 2018.
​
And Style Now Flash of Joy, white, imported from Russia who will bring more diversity to our white line. He is been campaigned by his breeder Marina Vanyavina in Russia and he is a Russian Champion as well as Canadian in November 2018.
In December 2017 we also got another red female named LeeAnns Rayon de Soleil Glows who has completed her Canadian Championship as a puppy in July.
​
On February 2018 we bought from Florida "Gulfbreeze Glow Oprah the Show Girl". She became a Ch. in July at only 7 month of age. She has some point for GCH... We will see what the future brings, We got her to bring diversity to our brown line.
.
Our GCH. Mivida Cyr Aramis with Glow became a top producer with 2 Canadian GCH sons, and 3 Ch daughters plus one multi Champion in Europe.
​
Am Can Ch. Willy Wonka, also sired one Ch. daughter and I kept one his girls for my breeding line born Sep. 14th 2018, her name is Glow Night Sky Raven.
​
Ch. Style Now Flash of Joy
Canadian and Russian Champion
AM Ch. Snowbound Wiggins TP is retired now. He produced several champions with Titania and other females. He sired GCh. Glow Zilveren Jewelen and her sister Ch. Glow Eydis Stellar Dazzle.
His son CH. Glow Comos Reaching for the Stars is working on his GCH. points.
Genetic diversity,
All our producers are tested and cleared for hips, patella's ad eye disorders. Now we do DNA=VGL testing, available in California, to produce healthier puppies with genetically compatible parents.
Certain color lines have a small gene pool. Reason why we decided to go to German and Norwegian lines to get the best unrelated studs in brown and silver that we could find.
My white foundation, Glow Claire de Lune's father, was the #3 miniature poodle in Canada for two consecutive years. She produced my GCH Blanca Nieves aka Neige.
Alegria poodles are the best miniatures in the US West coast. I went to Arizona to pick up my silver foundation: Ch. Alegria Glow Joya de Plata.
The parents of my first silver stud are international Champions all over Europe and I went to pick him up in Munster, Germany. He produced 3 champions already. My silver boy, König is Dwarf size 10 pounds and produces very healthy small miniature puppies.
The browns also have a small gene pool and Willy Wonka comes from a Norwegian line of Champions and GCH. He is large mini type (20 pounds) with great structure amazing personality and he is a head turner.
My brown foundation female Ch. Mivida Sweet Surrender" aka Baci is coming from California. Her breeder is very cautious about health testing and breeds only to the best champion lines.
We are proud members of the Ottawa Valley Poodle Club (OVPC) as well as the Poodle Club of Canada (PCC) where I volunteer as editor for the News Letters.
For more about us (click here) to go to "Our Story"
Poodles are intelligent, athletic, versatile, loving, forgiving, devoted and intuitive family members.
We do Free Style Dancing, Agility, Therapy and my poodles also posed as models for pictures on Fido commercials.
A friend studied zoo-therapy and she borrows Joya and some other of my poodles occasionally to visit old age people on need of treatment and love.
Zoo-therapy it is proven to ease Parkinson trembling hands, bring smiles and lowers blood pressure.
They make you laugh, they make you cry and they lick the tears away..,
I look forward to introducing you to our Poodles and to help you to find that treasured friend in your life.
If you need any information about the poodle breed or our unique products for special dogs do not hesitate to contact us.
You are welcome to come vist.
We also speak Spanish
Poodles are very smart and versatile. We stimulate their minds and train them in agility , rally and they enjoy playing in the snow, water and swimming. They are great dogs for therapy work as they are very empatic and tuned to their human companion.
La diversité génétique,
Tous nos producteurs ont tous subi les examens d'usage, pour détecter les désordres génétiques sont testés et défrichées pour les hanches, les troubles de la rotule et examens oculaires.
J'utilise maintenant les tests d'ADN= VGL disponibles au Californie. Il permettre produire chiots plus sain avec des parents génétiquement compatibles.
Certaines lignes de couleur ont une petite variété génétique disponible. Raison pour laquelle, nous avons décidé d'aller à des lignes allemandes et norvégiennes pour obtenir les males en couleur brun et d'argent.
Le père de Ch. Denote Glow Claire de Lune, était le caniche miniature #3 au Canada pendant deux années consécutives. Elle m'ai donne sa fille « GLOW Blanca Nieves » qui a devenu Grand Champion.
Les caniches miniatures de "Alegria" sont parmi les meilleurs de l'ouest des États Unis, et je suis allée en Arizona pour acheter ma première femelle de couleur argent Ch. Alegria Glow Joya de Plata.
Les parents de mon premier mâle argenté sont Champions Internationaux dans toute l'Europe et je suis allée le chercher à Münster, en Allemagne. Mon male argentee s'appelle König, Il est un petite naine (10 livres) et lui produit chiots naines avec très bon sante. Il a déjà produit 3 champions.
On commence à utiliser Willy Wonka, qu'est issu d'une lignée de Champions et GCH norvégienne. Il est un type de mini plus grand (20 livres), avec une structure étonnante avec une belle personnalité.
Ma female brune, Ch. Mivida Sweet Surrender" = Baci vient de Californie. Son éleveur est très prudent sur les tests de santé et elle reproduit avec les meilleures lignes de champions.
Nous sommes fiers d'être membres du Club de Caniches d'Ottawa (OVPC) et aussi du Club Canadien de Caniches (PCC) ou j'offre mes services volontaires pour éditer les Lettres de Nouvelles quatre fois par année.
Pour plus a propos de nous, peses ici pour lire "Notre Stoire"
Les caniches sont des chiens intelligents, athlétiques, versatiles, affectueux, qui aiment jouer, et qui sont dévoués aux membres de leur famille.
Une amie qui à Étudié zoo-thérapie et elle emprunte Joya et un autre de mes caniches de temps en temps pour aller visiter les gens âgées sur ler besoin d'un traitement et d'amour. Les chiens de thérapie apportent des sourires… Les gent avec parkinson arrête a trembler les mains et le pression sanguine descende.
Je me réjouis de vous présenter à nos caniches et pour vous aider à trouver cet ami précieux dans votre vie.
Ils vous font rire, vous faire pleurer et ils Ils lèchent les larmes ..,
Si vous souhaitez d'autres informations sur la race, ou nos produits spécialement conçus pour les caniches, n'hésitez surtout pas à nous contacter.
Vous êtes bienvenues au nous visiter.
​
​
On parle aussi l'Espagnol.
My dogs love this kibble mix with my home cooked food. In their ingredients there is plenty of good ingredients: lamb, glucosamine, medicinal herbs, fruits and vitamin. They always clean their plate and have no digestive problems.
When you order it by phone, it gets delivered to your door the next day, which is an added plus.
They also enjoy the bone biscuits for treats and training....
Get a $5 discount using this link:
https://tlcpetfood.com/paw-partner/107901/
Mes chiens aiment beaucoup la nourriture TLC. Je la mélange avec ma nourriture faite à la maison. La recette est pleine de bons ingrédients: agneau, glucosamine, herbes médicinales, fruits et vitamines. Ils nettoient toujours leurs bols et n'ont pas de problèmes digestifs. Ils apprécient également les biscuits en forme d'os pour les gâteries et l'entraînement....
Lorsque vous commandez par téléphone, la livraison se fait le lendemain à votre porte, ce qui est un plus.