High Quality Miniature Poodles in all colours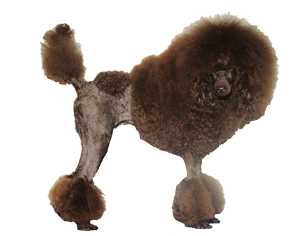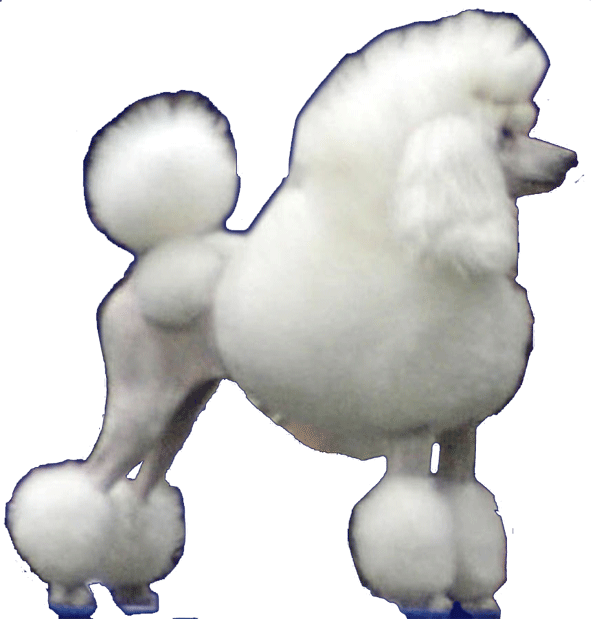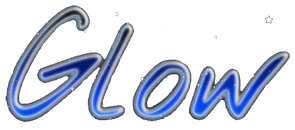 Caniches Miniatures Haute Qualité de toutes les couleurs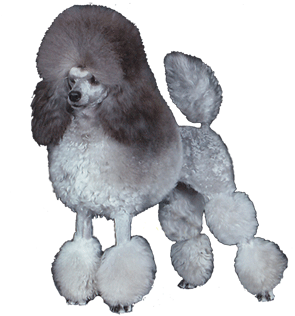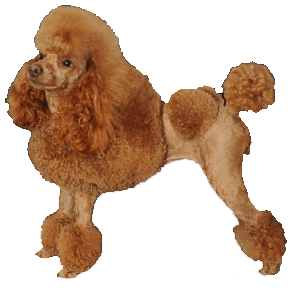 Ch . "Silver Eljano Vom Orecher's Hof" aka König
My Titles:
ADC (Agility Dog of Canada Novice)
Health tests: Chic# 108187
Optigen: PRA "A" = PO-PRA942/4M-VPI
, CERF= normal= PO-EYE416/48M-VPI
Hips = Good= PO-20769G24M-VPI
Patellas= Good - PO-PA2759/51M/P-VPI
Heart= Normal = PO-CA1484/25M/S-VPI
NEW !!! VGL Diversity Certificate at th end of this page
For all dogs pedigree, titles, talents, and health testing go to main page of our dogs /nos chiens
König was born
in Münster,
Germany,
April 17, 2010
When I showed Clarita at PCA I met a lovely lady, Carmen Telea. She lives in Holland, the country of origin from my dad. We kept in touch.
The bloodline of my champion female had too much line breeding and I had a hard time to find a good quality stud not related to that like.
When I mentioned to Carmen that I had a hard time to find a good stud puppy to use with my silver line, and that wanted to buy a foundation male she recommended her friend Ingeburg Roebert Orecher' Hof.
Ingeburg had two 5 month old dwarf males available from excellent pedigree.
Silver Eljano vom Orechers Hof (FCI) is the son of Two World Champions:
Father:
Ch. Chopin of Begonia Farm
World Champion 2010 Int+Gr+B+NL+Lux+Dt+CH-Ch+CH-Ksg, DPK-Sg+KSg+SgCh. BSg,ESg,JH-Sg
Mother:
Ch. Maxima Prinzass vom Orechers Hof
World Champion 2009
Int+VDH+Lux+B+Dt+NL-Ch, Wi'Belg, DPK-JuCh+KSg
I was very impressed as well by the intensity of health checking and veterinarian control Ingeburg provided with his papers... I could not pass the chance to get that boy!
I flew to Germany in September 2010 and brought König with me in cabin.
I never regretted it!
Thank you Carmen Telea for introducing me to this wonderful breeder!
Thank you Ingeburg for your hospitality and trusting me with your beautiful boy!
He is so full of love, kisses and he is very smart!
This is the first snow suit I made for him. All water proof and lined on blue satin with a stars patern on it.
I made a matching satin neck protective collar and made him look like a gentleman with a tuxedo.
Later i made him a jean suit with a leather tag like a real pair of jeans.
I love to have fun with my babies!!!
They are the stars
of my show!
pour la version Française.
Canadian Championship
König became a Canadian Champion at 10 month old.
He started his show career at 6 month on November 2010, at the Olympic stadium. By his 7 month he had already 8 points towards his championship. He rested during the Holidays
and when he went back in February.
He became a champion at 10 month old, on Markan, the first day he showed at the Ontario Breeders Show. Thanks to Judge Thomas Burke for appreciating his beauty and to the proffessional handling by Emily Burdonand grroming by Lise Purkis.
I was so proud of him that i decided to show him as a special
just for fun !
Agility
After finishing his Canadian championship König was cut down for the summer...
He had fun swimming and training for agility. He seems to be a natural and he runs very fast ! It is hard to keep up with him!
He learned all the agility equipment in one week ! he was not afraid of nothing! Even the zii-zaa, when it would bang, he would climb back the other way to make it bang again !!!
He accomplished his first title ADC on the first trial he competed, Sep 2013 with extra Q's for his next title!
König produced the most beaustiful puppies !
The very first time König was breed to Ch. denote glow Claire de Lune, producing one silver male and 1 M + 1F blues blues... They were all sold before I had a chance to claim one for keeps...
They were so beautiful! I promised myself I would keep one form his next breeding...
The first time König was bred to Ch. Alegria Glow Joya de Plata on Sep 2012 they had 2 M and 1 F .
I kept Tinsel and she became a champion.
He was used as a stud with Ch Laporte Lady Guinevere Shetara and he produced 3 lovely puppies. Their son: Glow Dartagnan L'Aristcrat aka Aris and his sister Salsa are Champions.
Dec. 27, 2014, we got a little Christmas surprise!!!
König was a nutty boy and got Joya when i was not looking.
We found out Joya was pregnant a few days before Christmas and the only female that was born was a bundle of Joy!!!
She was afraid of nothing! and she is so beautiful that she was sold to a groomer in Alberta for Show competition.
Her registered name is Glow Etoile de Noël, aka Ella.
She was evaluated as show quality, but due to too many dogs for breeding right now I decided to sell her.
Here you can see her qualities posing for her new mommy, after grooming. before starting competition!!!