High Quality Miniature Poodles in all colours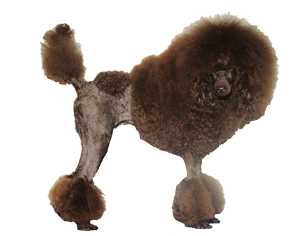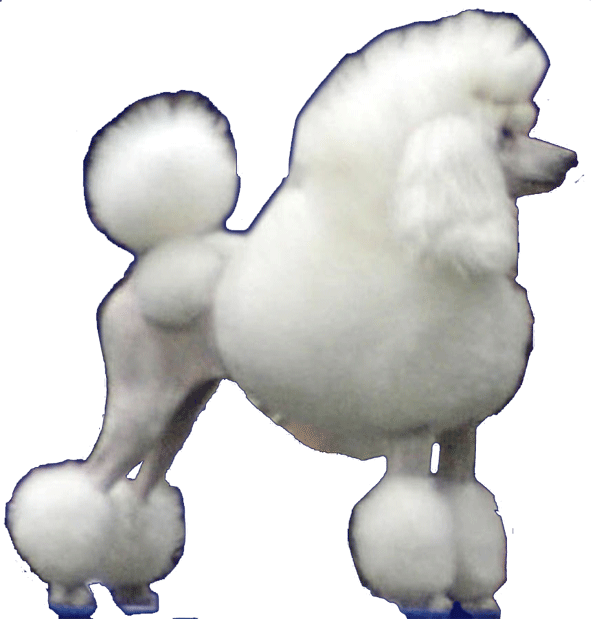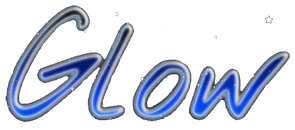 Caniches Miniatures Haute Qualité de toutes les couleurs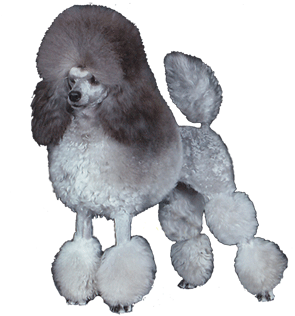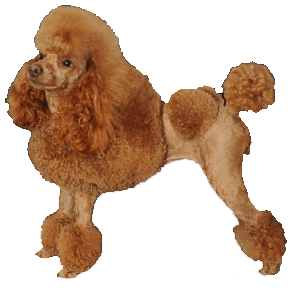 "Mivida Cyr Aramis Glows" aka Alfie
Née le
15 de Octobre 2015
pour la version Française.
Alfie was born
October 15, 2015
I have a great relationship with the breeder of Baci, Sally Ciraolo.
When i went to pick up Baci I was impressed with her white female Bubbles...
Wen she was bred by Charlene Smutny to her GCH. Soji Sally offered me a puppy male because there was 4 M and 1 F in the litter. Charlene is the handler of Sally's poodles and she took excellent care of the puppies in her "Poodle Ranch" in California.
Since she did not have any females for herself, I offered Sally one of Neige's (if available when her puppies are born). That way, one of Neige's babies will be Am. Ch. one day... and I will have a lovely cream stud. It was so difficult to find a nice stud for Neige, that it will be very well worth to have my own. Besides it happens that Alfie carries the silver gene, bringing new blood to the silver line.
Since I also breed Reds, I could possibly try to bring new blood to the apricot/red lines as well.
He is going to be a busy boy!
He is co-owned and loved by my client/friend Isable Savard that I know for many year and owns Shelby, the puppy from Clarita and König first litter. Shelby is very well treated, loved and spoiled. I get to see him often as isabel brings him to me for grooming every 3 weeks.
Alfie is from great pedigree, with parents with great health testing and i'm confident that he will pass all his health testing with flying colors.
Alfie, like his name is an Alpha dog :-). He is confident, loving and playful, so I'm sure i will have no problems finishing his show career in no time.
Thank you Charlene for raising such a confident boy <3 and thank you so much Sally for your friendship ans letting me have Alfie.
For all dogs pedigree, titles, talents, and health testing go to main page of our dogs /nos chiens
Health Testing:
Optigen PRCd "A" : Accession #16-1365
Osteochondrodysplasia = Dwarfism : Accession #16-1365
CERF 2015 -2016 = normal
Preliminary hips and patellas = normal by vet certification
See VHL DNA at the end of this page
,
We had to wait until his hair grew after a bad hair cut...
We went to the picnic of Ottawa Valley Poodle club along with some other GLOW poodles... We had a fun day, but it was very difficult to program a group picture.
Canadian Championship
Alfie was presented the first time at KILBRIDE, by Jennifer Carr who groomed him to perfection and he made two point on his first show of two days. Then he was ready for his next show at Ingleside where Emily Burdon was very nice to present him for me at the last minute making a group 3 and BOB.
It took him only 4 walks around the ring to make his championship !Alfie has great mement and he showed like it was the most natural thing for him charming the judges and free stacking.
His next show was at OAKVILLE , where Jenn prepared him for Terrebone where he got BOB every day presented very professionally by Caroline Kerney. The first day he also got a Group 3 and Best puppy in Group!
Caroline showed him even on Sunday, and he got BOB, a group 4 and bet puppy in group.
The following show at PINE RIDGE, Alfie got another Group 3 and Best puppy in Group.
On just those few shows he is qualified already as #6 Miniature poodle in Canada! Isabel and myself are very proud of this boy!
Jenn Car was busy showing Mila, so I had to ask Allie Cowie Hardy to take over Alfie.
She did a wonderful job at Elora Gorge, and Alfie placed 6 more points for his GCh .
​
She finished Alfie very quickly which Jenn would not have done because she was not doing winter shows.
​
Allie took him as well to Wildwood where he completed his GCH!
​
Now she is presenting Willy Wonka in the USA as well !
​
Thank you Allie for doing such a great job!
​
​